I'm sorry for my lack of posting- I've been working 70-80 hour weeks lately. Can you say Christmas performances, Grades due, Parent Teacher Conferences, December Craziness? I'm thinking in list form currently so the Sunday Social Link Up fits the bill.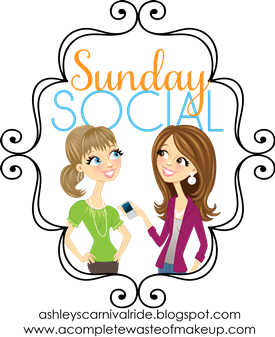 1. Favorite Holiday Movies/TV Specials?
Old School: White Christmas
Christmas Comedies: Christmas Vacation, Elf, Christmas Story (
I want this box set
)
Sappy TV Specials: The Christmas Shoes trio
2. Do you do any volunteering during the holidays if so what? If not what would you do?
I volunteer year round as a Youth Group Leader, but at Thanksgiving I served in Inner City Detroit dropping off Thanksgiving Baskets at various homes and serving in a Soup Kitchen. For Christmas I am adopting a child in Foster Care. How I wish that it was more that buying them necessities and a gift or two. I can't wait to adopt to grow my family!
3. Favorite toy received as a Child for the Holidays?
Definitely an American Girl Doll- Molly!
4. What was your must have item in high school for the Holidays?
Pointe Shoes!!! I attended a boarding school to train professionally for dance my last two years of high school. I'd sometimes be in my Pointe Shoes 8 straight hours a day so Christmas was stock up time. Oh...and I definitely needed a few bottles of Jet Super Glue to make my shoes last longer!
5. Item you begged for the most and never got?
Power Wheels Barbie Jeep. The parents thought it was too dangerous....and too expensive I'm sure.
6. What do you do on Christmas Eve?
We always go to Christmas Eve Mass as a family, and have dinner/movie together at home. When we were younger we each opened 1 present: always new PJs and a stuffed animal. Last year we started a tradition of a Christmas Eve Party at my Godsister's home. So thankful we got to spend her last Christmas with her.
What are your Christmas Traditions?
Link up with Neely at Some Days are a Complete Waste of Make-up.