Happy Sunday!
To celebrate re-igniting my blog (and to postpone grading papers), I'm participating in a link-up: Sunday Social @
Some Days are a Complete Waste of Makeup
! Enjoy the randomness...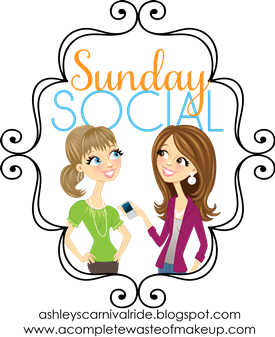 1. Name 4 jobs you've had in your life:
Teacher
Choreographer
Camp Counselor/Recreation Director
Office Assistant
2. Name 4 movies you would watch over and over:
Only 4? Well here are 4 of my favs...
Life as We Know It
A League of Their Own
Sound of Music
The Blind Side
3. Name 4 places you have lived:
Michigan
Illinois
Virginia
Canada...for a summer dance camp
4. Name 4 of your favorite foods:
Ice Cream
Diet Coke
Great Harvest Bread's Irish Soda Bread
Mashed Potatoes
Clearly...I'm a health nut.
5. Name 4 things you always carry with you:
Cell Phone
Credit Card
ID/License
Remote (I'll keep you guessing on that one :-)
6. Name 4 places you have been on vacation:
Europe- Amazing Backpacking Trip in College (Maybe I need to do a post on it)
Caribbean Cruise
NYC- to see friends in Broadway shows
Honduras- mission work is my kinda vacation
Want to Link Up Next Week? Here are the "We are getting into the Holiday Spirit" Questions:
1. What is your favorite Holiday season tradition?
2. Do you have a certain Holiday movie you watch more than others? If so what is it?
3. Show us your favorite decoration or pinterest decoration you wish you could have
4. Favorite Holiday song?
5. Favorite Holiday dessert?
6. What is on your wish list this year?

Have a Great Week,
Kathleen